Things continue to bloom
LPO Garden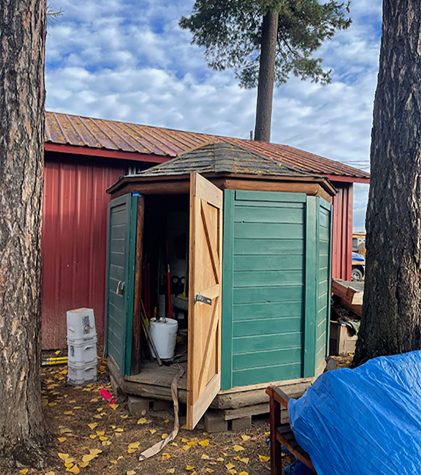 Nestled behind Chef Rand's classroom, is the Lake Pend Oreille garden. The garden gives students an opportunity to get outside and get hands on with their learning. Projects in the garden range anywhere from worm farms to fencing. Students gain many useful skills, such as working with hand tools and power tools, problem solving, and safety.  All students work together effectively demonstrating teamwork. The garden is a great environment for students to gain hands-on skills, and be safe while learning.  
One of the more recent projects in the garden is the fence. With help from a contractor the fence has been making steady progress. The start of the project students dug holes so the post could be set. Students learned how to level out and align  the fence  posts. Students also learned how to pour concrete and  properly fasten screws. Students learned to properly measure and cut wood.  Teaching students the correct way to use tools will be a life-long skill. 
A big part of the garden is reusing as many resources as possible. An example of this is remodeling the old gazebo as the tool shed by using salvaged siding, insulation and tool racks that Rand. Other recycled projects were 55 gallon plastic barrels that had been converted to planters. Students renovated old wood chairs by replacing rotten pieces of wood, sanding and finally by painting them . 
A key point in the garden is keeping all students safe. Students being aware of their surroundings is important. Students always make sure tools are out of the way and put back properly when they're done to avoid tripping over them. Students also are taught how to properly use tools so they don't hurt themselves or others. Sho shugi bon is a technique where students burn wood with a torch, brush it with a wire brush and then wash it with warm soapy water to preserve the wood. Students practice fire safety by learning how to use a fire extinguisher and having someone on watch to make sure the torch doesn't start fires. 
The LPO garden is a great way for students to get a fresh breath of air and get out of the traditional classroom. This style of learning is great for students that like hands-on learning. It is a great opportunity to learn at LPO.