Veterans Day Visit to the Space Station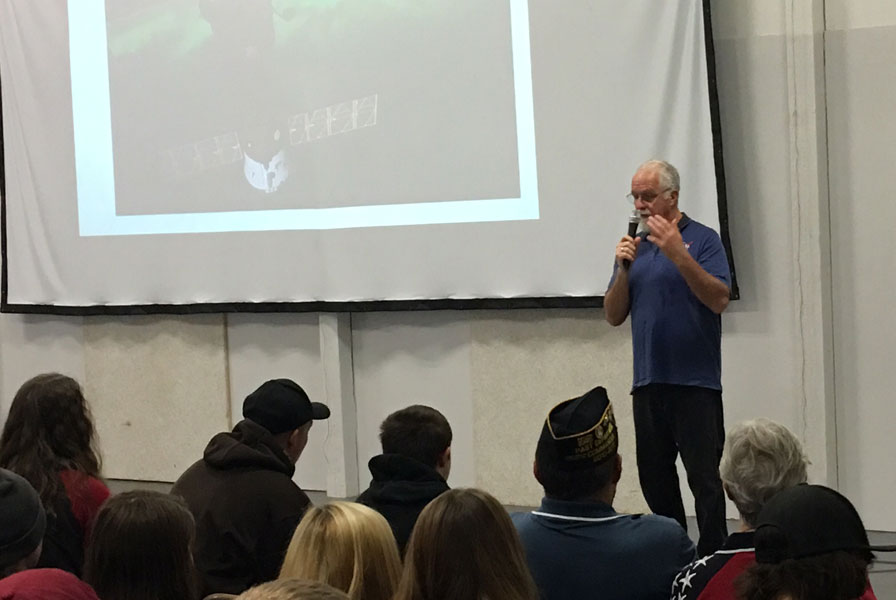 Lake Pend Oreille HS hosted a Veterans Day assembly November 10th. In addition to students and faculty, a handful of local veterans were in attendance—men and women whose military service totaled over a century, collectively. They sat in the front row and wore garrison caps, medals fastened regally to uniforms and pins pinned to gold-trimmed blue or red lapels—branch dependent. Following an invitation from teacher Bret Johnson to come together after a divisive presidential election, to recognize the role soldiers play in protecting our ability to hold disparate opinions, Calista Sponaugle, a senior at LPO, led attendees in the Pledge of Allegiance.
John Phillips, retired astronaut and Navy Captain, was the guest speaker. He narrated a slide show covering three separate expeditions to the International Space Station, detailing objectives and accomplishments. As a captive among the stars, John spent much of his free time gazing at Earth below, even snapping a few pictures. One of Lake Pend Oreille, its orientation lopsided, its waters Prussian as seen from a porthole in space, was of particular note—especially to the adolescent minds placing themselves, just for a moment, in the dark, weightless pool of exosphere, somehow closer to the last frontier through association.
A Q & A followed John's presentation. Questions revolved around the day-to-day: the quotidian logistics of biological imperatives, even entertainment. And yes, the bathroom query—we were all thinking it and glad someone asked—was answered in a matter-of-fact, albeit comical way. On a final note, John disclosed that he applied to be an astronaut in 1976 but wasn't accepted until 20 years later. If there was a message—thankfully, presented subtly and without unwieldy cliché—it was one of perseverance, of never giving up on one's hopes and dreams.